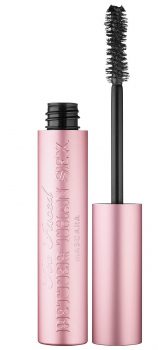 Too Faced Better Than Sex
Lengthening mascara
As the name itself suggests, Better Than Sex Mascara is supposed to be better than any other mascara and any cosmetic that we use. How it really is? Let's begin with the fact that the mascara is available in two versions: pink, with a standard formula, and green, a waterproof one. Both are durable and have the same brush. Also, the opinions about both are strongly divided.
Brush – it's said that the curves of a woman's body was an inspiration for the shape of this brush. The nylon-bristle brush has the shape of an hourglass, it is wide at its ends and narrow in the middle. Ideally, it should be possible to reach every eyelash and paint even small hairs at the corners of the eyes.
Formula – the Too Face brand has enriched its mascara with an acacia phytocollagen that has regenerating and elasticising properties, but in combination with many waxes, artificial dyes and thickening substances, its effect is strongly weakened. The most frequently mentioned advantage of this mascara is a very intense pigment, thanks to which the Better Than Sex mascara is maximally black.
How does it work?
Just one coat is enough to make Better Than Sex mascara curl the eyelashes and emphasize their line. It gives a natural look and nicely outlines the contour. Unfortunately, most women are not satisfied with a barely visible effect. The mascara intensely darkens and thickens eyelashes only after applying three coats, which also indicates clumps and smudges. Definitely, it is not the best mascara, hence different opinions about it.
In a nutshell:
Despite the name, the mascara gives medium effects and smudges.
The brush is of an intriguing shape but it's made of flimsy bristles.
The mascara is highly pigmented and contains acacia phytocollagen.
Only thee coats give a thickening effect.