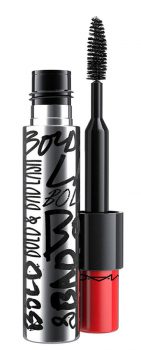 MAC Bold & Bad Lash
Dual-chamber mascara (2in1)
It is one of the few mascaras presented at the New York Fashion Week. No wonder that after this premiere, many women wanted to own it. It is because MAC Bold & Bad Lash is a dual-chamber mascara designed to facilitate painting of lower eyelashes. Usually, the formulas of cosmetics are doubled, and in this case we also have two brushes, one of which lets you paint the lower eyelashes without worrying about smudges.
Brush – the idea of using two wands of completely different sizes usually means that the product can be opened from two sides and, therefore, there is not much of it inside. Here, the smaller and more precise wand is hidden in the larger one. This is a very good idea, but the brushes themselves are made of nylon, which shortly will be thrown on the scrap heap. If they were silicone, they could paint better.
Formula – two brushes mean also two different formulas. Bold & Bad Lash mascara is a combination of a number of pigments and various waxes. The formula for upper eyelashes contains macadamia oil, green tea extract and glycerine, while in the second one there is olive oil and paraffin. It is hard to say why the manufacturer believed that the upper and lower eyelashes need different care.
How does it work?
The Bold & Bad Lash mascara impressively emphasizes the eyelashes, at the same time lengthening and darkening them. It's not dense or sticky so the eyelashes are not overloaded or clumpy. The fans of neutral and delicate makeup will be satisfied with how the mascara paints. However, it's worth noting that it does not thicken or add volume regardless of the amount of coats. Also, it is not that efficient and runs out quickly, which is quite a surprise considering the price.
In a nutshell:
It's the first mascara with the smaller brush hidden in the larger one.
Two separate formulas for the upper and lower eyelashes, which might seem illogical.
It has lengthening and defining properties, but without a spectacular density.
It gives a natural effect without sticking eyelashes at the expense of quick drying of the mascara.