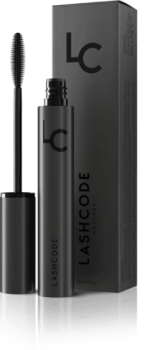 Lashcode Mascara
Extending, curling and thickening mascara
The unquestionable winner is Lashcode. Now it is the most popular mascara among women as well as professionals. For months it has been conquering the hearts of women all over the world because it combines the properties of the highest quality mascaras and the eyelash serum. This is the first mascara that can be used even by women with eyes sensitive to mascara.
Brush – an ergonomic applicator made of hypoallergenic silicone, has been designed to fit the eye size and the length of the eyelashes. A seemingly simple brush separates the eyelashes reaching even into the corners of the eye, and makes the mascara cover each of them. The wand narrows at both ends, its hairs are perfectly arranged, that's why even the smallest eyelashes are covered with mascara.
Formula – Lashcode is a combination of the best ingredients and care substances. Based on plant waxes (carnauba and rice) and synthetic beeswax (ideal for allergy sufferers), it also contains bajkal skullcap (accelerates growth), soybean and wheat germ extracts, arginine, vitamin E, provitamin B5. Additional nutritional properties are also provided by magnetite – a mineral pigment. This is the only pigment used and this is what gives the Lashcode intense black shade. Even though it is not waterpoof, it is very durable because the formula has been enriched with moisture- resistant substances.
How does it work?
Lashcode is not just a mascara. It is a professional tool, thanks to which eyelashes become longer and thicker with just one stroke of a flexible wand. It perfectly shapes the eyelashes, darkens and makes them more elastic and curled. The mascara helps to define the look without overloading the eyelashes. It is a very long-lasting solution – up to 24 hours without smudging, flaking or clumping.
In a nutshell:
It lengthens, thickens, and curls the eyelashes for multiplied volume.
It contains a nourishing mineral pigment of intense black colour.
It's extremely durable and still easy to remove.
The formula contains a set of the best nutrients.
The brush has been designed to fit the eye size and the length of the eyelashes.
more information: lashcode.us