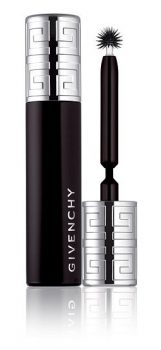 Givenchy Phenomen'Eyes
Lengthening and curling mascara
Since several decades, the French brand Givenchy has been a good choice for people who value high-quality products. The Phenomen'Eyes mascara is an interesting and noteworthy position, mainly due to the brush of a specific shape that works well with both waterproof and traditional formula. The product is available in two versions, that can be differentiated by a different colour of the package.
Brush – this spherical brush was supposed to be a preview of the make-up revolution. It resembles a spiked club and this is not a very comfortable shape in fact. The brush helps to reach the corners of the eyes to apply mascara on the short eyelashes, but makes it difficult to paint thick and long eyelashes. Women with big eyes complain that this solution is impractical as it is easy to put the tip of this applicator in the eye.
Formula – a combination of four waxes (including beeswax), polymers and nutritional d-panthenol sounds pretty good. However, the Phenomen'Eyes formula is also full of other synthetics that can be harmful. The mascara (even in the traditional version) can be hardly removed. It is a fast-drying combination of ingredients, which is supposed to give long-lasting results.
How does it work?
The Phenomen'Eyes mascara emphasizes the colour of eyelashes, because it is highly pigmented. It also lengthens and curls quite well, unfortunately it means that the owners of thin eyelashes may not be fully satisfied with the effects. The brush in the original shape of a ball reaches every eyelash making the entire eyelash line emphasized. However, some say that the mascara smudges. Also, it easily transfers onto the eyelid.
In a nutshell:
A well-pigmented formula, but contains a small amount of nutrients.
An innovative but uncomfortable brush in the shape of a ball.
It highlights, lengthens and curls eyelashes without adding much volume.
A formula difficult to remove.