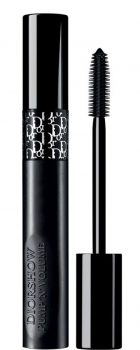 Diorshow Pump' N' Volume
Thickening and lengthening mascara
Generally, mascara drying is a very common problem. You can try to use some tricks to prolong its durability or you can just as well use Diorshow Pump 'N' Volume. Its characteristic feature is partially flexible container that can be squeezed to heat the mascara and improve its consistency. Not everyone will admire this innovative solution, especially not those who are used to standard packages.
Brush – the silicone brush is quire large and thick in order to achieve the XXL eyelash effect. It has elastic hair and rigid core, the hairs are wide and thinly spaced. The result is that the wand takes on too much mascara and sticks the eyelashes together during application. The narrow end of the brush does not make the painting of eyelashes at the corners easier either.
Formula – in Diorshow Pump 'N' Volume there are mainly plant waxes and powdery substances Bouncy PowdersTM, thanks to which the mascara covers the eyelashes well. According to some of the opinions, the mascara is very runny at first and can stick together the eyelashes.
How does it work?
Diorshow Pump 'N' Volume is designed to lengthen and thicken the eyelashes. Because of the brush, there is a risk of applying too much mascara which result in an unnatural effect. After drying, it's hard to comb the eyelashes. Although for many people this is actually the desired look for such a high price.
In a nutshell:
Maximum, but often very unnatural thickening of eyelashes.
It has partially flexible container.
The brush is made of flexible silicone, but at the same time quite large and uncomfortable.
Very high price inadequate to the comfort of use.