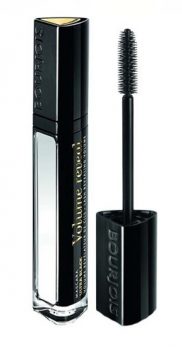 Bourjois Volume Reveal
Thickening mascara with an integrated mirror
Mascara with the built in mirror with X3 zoom? This is Bourjois Volume Reveal, mascara for fans of inexpensive and non-obvious solutions. What is characteristic of this mascara is a container with a triangle base in which one wall is a built-in mirror. Generally, the opinions are divided – for some it is a useful option, others are annoyed by the fact that it gets dirty easily.
Brush – the mascara is available in two versions: with a silicone or nylon brush. Women are more likely to choose the first option, because the bristle hair brushes seem to be a thing of the past. Both versions have two rows of bristles of two lengths to accurately paint long and short eyelashes. This kind of a brush combs and paints the eyelashes well.
Formula – the mascara contains quite a few interesting ingredients, including arginine, panthenol, vitamin E, collagen or keratin. However, when it comes to keratin, if it is supplied excessively, it tends to build up at the base of the eyelashes and weaken them. Still, the action of these ingredients is limited by a large number of artificial dyes and substances that increase the viscosity. Bourjois Volume Reveal can only be used a few weeks after opening when it sets, it stops smudging.
How does it work?
Bourjois Volume Reveal is a mascara that brings out the natural beauty of eyelashes – it emphasizes their colour at the same time covering all hairs. However, the fact that every single eyelash is thoroughly covered does not indicate maximum volume. Bourjois mascara darkens, lengthens and combs well.
In a nutshell:
There are two versions of the brush (silicone and nylon) that work well.
Original packaging with a mirror that easily gets dirty.
A runny formula that can be used only after a few weeks after opening.
The mascara paints, combs, lengthens and darkens the eyelashes.