Long means beautiful – must-have eyelash extension tools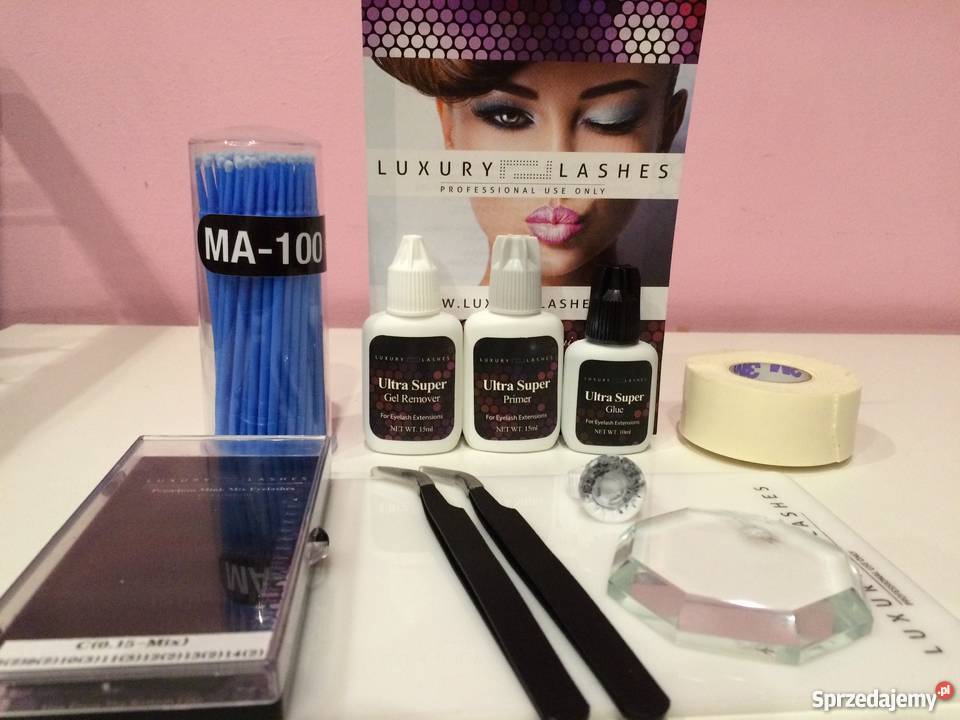 Nature rarely gives us long and thick eyelashes, impressing enough for us to leave them as they are. That is why women often decide to extend them. Check what is needed for such a beauty treatment and if it's really worth it.
Eyelash extension is a procedure that involves attaching one false lash onto each of our own natural lashes. Properly matched length, thickness and colour can create an impressing effect. However, a fresh beautician can overdo it with volume which will result in a caricatural effect.
Because many women still fear to achieve an artificial effect with false eyelashes, they prefer to use professional conditioners and mascaras to define their eyes. A high quality mascara can give a stunning effect of false eyelashes without sticking, flaking and smudging.
However, before undertaking such a treatment, it is worth to know what is needed to extend the eyelashes. Not only is this knowledge crucial for a beautician, but also for a woman who wants to have her eyelashes extended. It is good to know if our eyelashes are in professional hands.
WHAT IS NEEDED FOR EYELASH EXTENSION?
1. False eyelashes
One packet of eyelashes of one type is not enough. It is necessary to have eyelashes of different length (from 9 to 15 mm), which allows you to adjust them to the length of natural hairs. In order to match the eyelashes to the eyes of the client, different types are also necessary:
type C, the most popular curl giving a natural look,
type D, maximum curled eyelashes,
type J, recommended for people with naturally straight eyelashes,
Professional beautician will hold a more impressive set of eyelashes. The client should be given a choice in terms of materials used – natural or not (for example because of allergies). There are three main types of false eyelashes: synthetic, silk or natural hair from Siberian minks.
2. Eyelash glue
Without the proper glue, it is not possible to apply the eyelashes properly so that they don't fall off the next day. Most often the eyelash extensions are done with quick-dry adhesives (1-2 seconds), which is why the treatment requires the right skills and precision as corrections are almost impossible. A high quality adhesive has a hypoallergenic formula – less popular glues often sensitize.
3. Professional Eyelash Extension Tweezers
A professional beautician uses two sets of tweezers (one straight and one curved). The first one is used to separate natural eyelashes, the curved one is used to capture and apply artificial ones. The application cannot be done without the tweezers as false eyelashes are very delicate.
4. Eye Pads and Tapes
Eyelash extension is a time-consuming procedure that allows no motion. To protect the bottom eyelashes and the skin around the eyes, and to prevent gluing of the lower and upper eyelashes, special eye pads or tapes are used. Some of the pads contain collagen that moisturizes the client's skin but might also sensitize. The tapes are much safer and serve to cover the bottom eyelashes.
5. Eyelash Extension Primer and Remover
Another necessary tools are Primer and Remover. The first one is used to degrease the client's eyelashes. Thanks to this, the effect will last longer. The second tool, which should be included in its equipment, is a remover, a liquid that enables the removal of excess glue and incorrectly glued eyelashes. It can also be used to clean the tweezers.
A RECAP
It is no surprise that eyelash extension is quite an expensive beauty treatment. It requires proper skills but also a set of tools, cosmetics and materials. So is this really worth it when we have access to various professional conditioners to grow our eyelashes and mascaras that extend and thicken them? The answer might be no. It is because this process involves the usage of potential materials that may be sensitizing (false eyelashes, glues, pads, degreasers) which increase the risk of irritation.